I am using Windows and cannot see the SyncBack icon in the system tray
Starting with Windows 7, Microsoft changed Windows so that, by default, program icons are not shown in the system tray. The system tray is the area next to the clock that is typically in the lower-right corner of the desktop.
To have SyncBackPro/SE/Free system tray icon displayed you must configure Windows to show it:
For Windows 10/Server 2016 or later users:
Note that starting with Windows 10 and/or Windows Server 2016, the "Customize" option is no longer displayed under the Show Hidden Icons pop-up. Here are the steps to navigate to the same settings page under these OSes:
- Right-click on an empty area of the Taskbar and select "Settings":
- Click on Taskbar on the left side, and click on the "Select which icons appear on the taskbar" link under the Notification area section on the right:
- Change the On/Off switch for SyncBackPro/SE/Free to "On". Close the window after the setting has changed.
Shortcut Method (applicable for Windows 7 and/or later OSes):
You can change the order of the icons by dragging and dropping a hidden icon into the system tray, and vice versa. This Microsoft article has more details
For Windows 7/8 users:

- Run SyncBack and check to make sure Minimize To Tray is enabled in the Preferences main menu.

- Click on the "up" button to show hidden icons: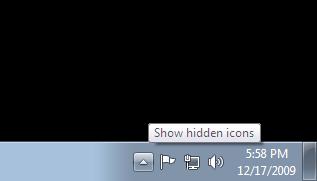 - Click the "Customize..." link text:




- Change the setting for SyncBackPro/SE/Free to "Show icon and notifications" then click the OK button: